| | | |
| --- | --- | --- |
| Environment | Cooling method | Functions |
| Indoor | Peltier | Display |
| | | | | | |
| --- | --- | --- | --- | --- | --- |
| EU RoHS | China RoHS | CE | UL | CSA | PSE |
Model

OCE-100FSC-A1
OCE-100FSC-A2
OCE-200FSC-A1
OCE-200FSC-A2

Type of mounting

Lateral mounting

Cooling method

Fan-cooled air agitation

Cooling capacity*1

90/100W

180/200W

Rated voltage(50/60Hz)

Single phase 100VAC

Single phase 200VAC

Single phase 100VAC

Single phase 200VAC

Current consupmtion*2

Rated

2.1/2.0A

1.1/1.0A

3.9/3.8A

2.0/1.9A

Max.

2.3/2.2A

1.2/1.1A

4.3/4.2A

2.2/2.1A

Starting current

7.5A

4.0A

11.5A

8.0A

Power consumption*2

Rated

210/200W

210/200W

390/380W

390/380W

Max.

230/220W

230/220W

435/425W

435/425W

Working temperature

0 to +50℃

Working humidity

Not exceeding 80%RH,free from condensation

Noise

52dB(A)

56dB(A)

Display

Innter temperature/Alarm code/Operation lamp/Alarm lamp

Temperature setting range

+10 to +50℃(Initial setting +30℃)

Function

Off-temperature alarm,Maintenance reminder,Detection of fan shutdown on cooling side,Detection of temperature sensor disconnection,Detection of abnormal temperature at power supply

External output

240V 1.5A

Environmental standard

RoHS

Operating method

ON/OFF control DIF:3℃

Drainage water*3

Max.15ml/h

Max.30ml/h

Color

Beige(10GY9/1 corresponding)

Dimensions(mm)*4

W265×H241×D177

W265×H381×D177

Weight

6.0kg

9.8kg
*1 Nominal cooling capacity with +30℃ in working temperature.
*2 Nominal values at 30℃ temperature when both inside and outside are indicated in "Rated" and nominal values at 10℃ outside and 30℃ inside temperatures are indicated in "Max".
*3 Maximum amount of condensation water discharged when ambient temperature is 50℃ and humidity is 80%RH.
*4 Projections are excluded.
Supply voltage should be within the fluctuation range of 10% from the rated voltage.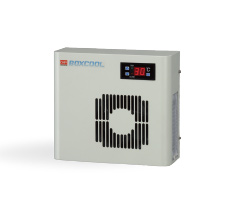 ●BOXCOOL:1 pc ●Fixing bolt:4 pcs ●Spring washer:4 pcs ●Plain washer:4 pcs
●Nut:4 pcs ●Drain hose:1 pc(2m) ●Terminal board:1 pc  ●Instruction manual:1 copy
Filter at suction port
BCF-S1(2pcs/set)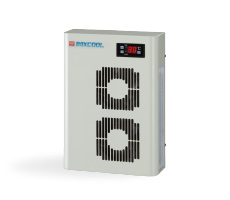 ●BOXCOOL:1 pc ●Fixing bolt:4 pcs ●Spring washer:4 pcs ●Plain washer:4 pcs
●Nut:4 pcs ●Drain hose:1 pc(2m) ●Terminal board:1 pc  ●Instruction manual:1 copy
Filter at suction port
BCF-S2(2pcs/set)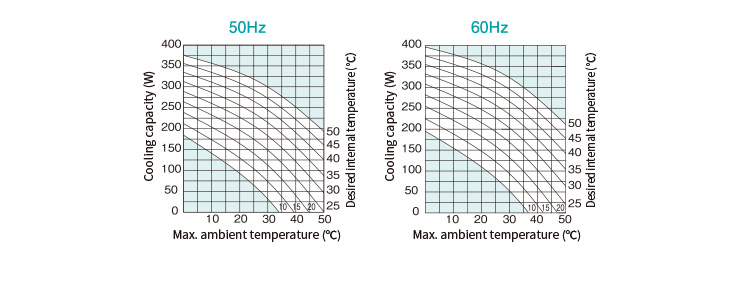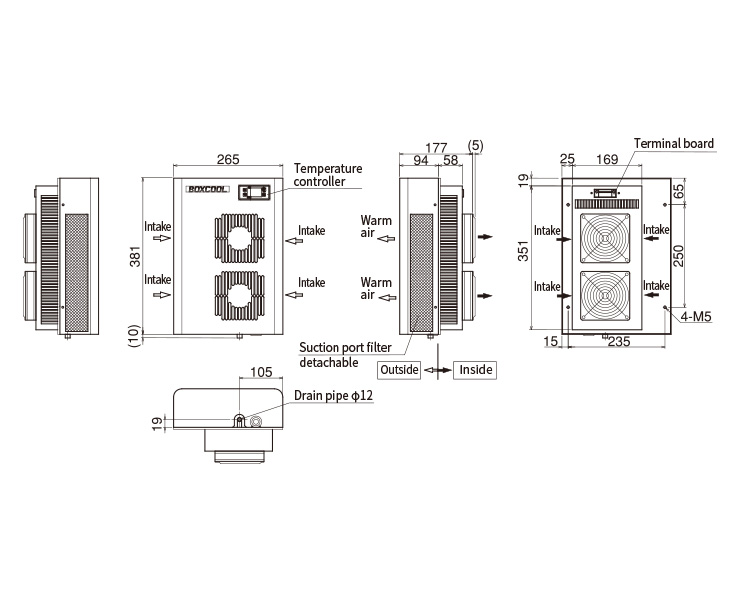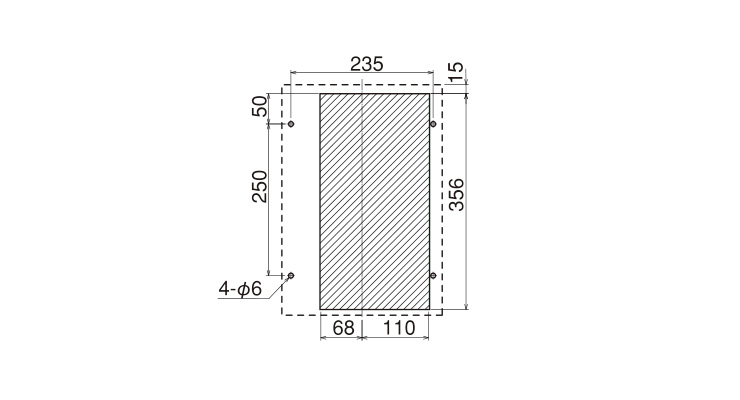 ---
・Do not use this product in a place where inflammable gasses, corrosive gasses or any matters that may destroy insulation present.
・The site of use should be free from vibration and impact.
・Make sure that electrical wiring work is done by qualified electrician.
・Be sure to install the product perpendicularly within 1 degree tolerance.
・Reverse thermoelectric effect is not available with this product.
・Any packaging damage may be a cause of malfunction. Make sure that the packaging is not damaged on delivery and contact your supplier.
・For outdoor use, please consider outdoor use models (OCE-100BEC-AW,OCE-200BEC-AW)