Low cost temperature control system specifically designed for BOXCOOL

Environment of use

Function

Indoor

Display

Wide range of supply voltages
| | | | | | |
| --- | --- | --- | --- | --- | --- |
| EU RoHS | China RoHS | CE | UL | CSA | PSE |
Model

OCE-TC91-8Y1-1C

OCE-TC91-8P3-1C

Control method

Auto-tuning PID controller ON/OFF control

Setting range

-100 to +80℃

Control output

Contact output 240VAC 2.0A/Resistance load
240VAC 1.2A/Induction load
Voltage output 11V±1VDC (at load resistance1.5kΩ)
Load current not exceeding 30mA

Type of input (option) *1

・Thermocouple (B, R, S, K, E, J, T, N, PLⅡ, Wre5-26,{U,L(DIN43710)})
・Resistance temperature detector (JIS Pt100/JPt100 3-wire type) 0.25mA
・Rated voltage (-10 - 10, 0 - 10, 0 - 20, 0 - 50, 10 - 50, 0 - 100 mVDC)・・・ Input scaling possible

Power supply voltage (50/60Hz)

100-240V AC±10% 

Power consumption

Approx. 11VA 

Digital display

Measured value (PV)/7segment Red LED 4 digit  Target set variable (SV)/7segment Green LED 4 digit 

Display accuracy *2

±(0.3%FS+1 digit)

Display resolution

Varies by measurement range (0.1, 1)

Sampling frequency

0.25 sec.

Liquid temperature

Number of alarm point

2 points of EV1 and EV2 (Normally open, Common)

Alarm items

Select from upper deviation limit, lower deviation limit, out of deviation range, within deviation range, upper absolute value limit, lower absolute value limit

Action

ON-OFF action

Rating

Contact 1a×2 (Common)/240VAC 1A (Resistance load)

Data storage

Non-volatile memory (EEPROM)

Working temperature

-10 to +50℃

Working humiidity

Max. 90%RH, free from condensation

Insulation resistance

Between input/output terminals and power terminal/ Min. 500VDC, 20MΩ
Between input/output teminals and protection condutor terminal/500VDC, 20MΩ

Withstand voltage

Between input/output terminals and power terminal, 2300 VAC, 1 minute
Between power terminal and protection conductor terminal, 1500VAC, 1 minute

Protective structure

IP66 equivalent dust and splash proof constuction (Front panel part only)

Casing material

PPO plastic molding (UL94V-1 equivalent)

Installation

Recessed mounting with single action

Panel thickness

1.0-4.0mm

Mounting hole dimensions

W45×H45

Terminal screw

M3.5

Conformity to standards

Environment

RoHS

Dimensions (mm)

H48×W48×D111

Weight

170g
*1 Sensors for thermocouple and RTD are sold separately.
*2 Excluding cold junction temperature compensation accuracy of thermocouple input
OCE-TC91-8Y1-1C Contact output type
Example of using a switched-mode power supply having remote control function for contact input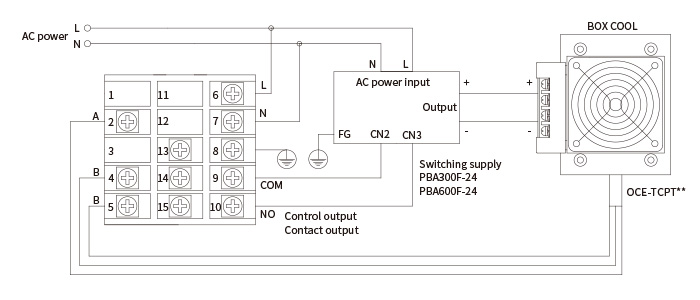 OCE-TC91-8P3-1C Power supply output type
Example of using a switched-mode power supply having remote control function for voltage input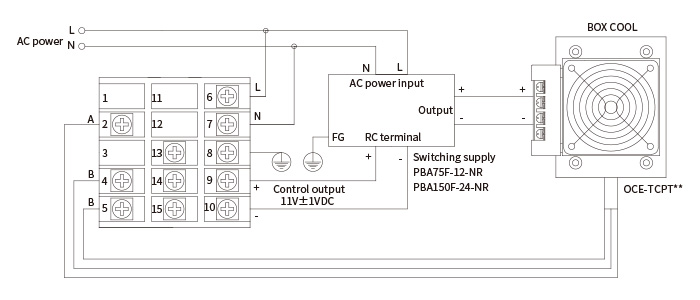 ・Do not use this product in a place where flammable or corrosive gasses, oil fume or any matters that can destroy insulation generate or permeate.
・The site of use should be free from vibration and impact.
・Electrical works required for installation of this product should be done only by professionals or qualified personnel.
・Indoor use only.
・Inversion control function is not provided. Single output control for either heating or cooling (factory setting : cooling control)
・Make sure that the packaging is not damaged on delivery. Any packaging damage can lead to breakdown of the product. Please contact us immediately if any damage is found.