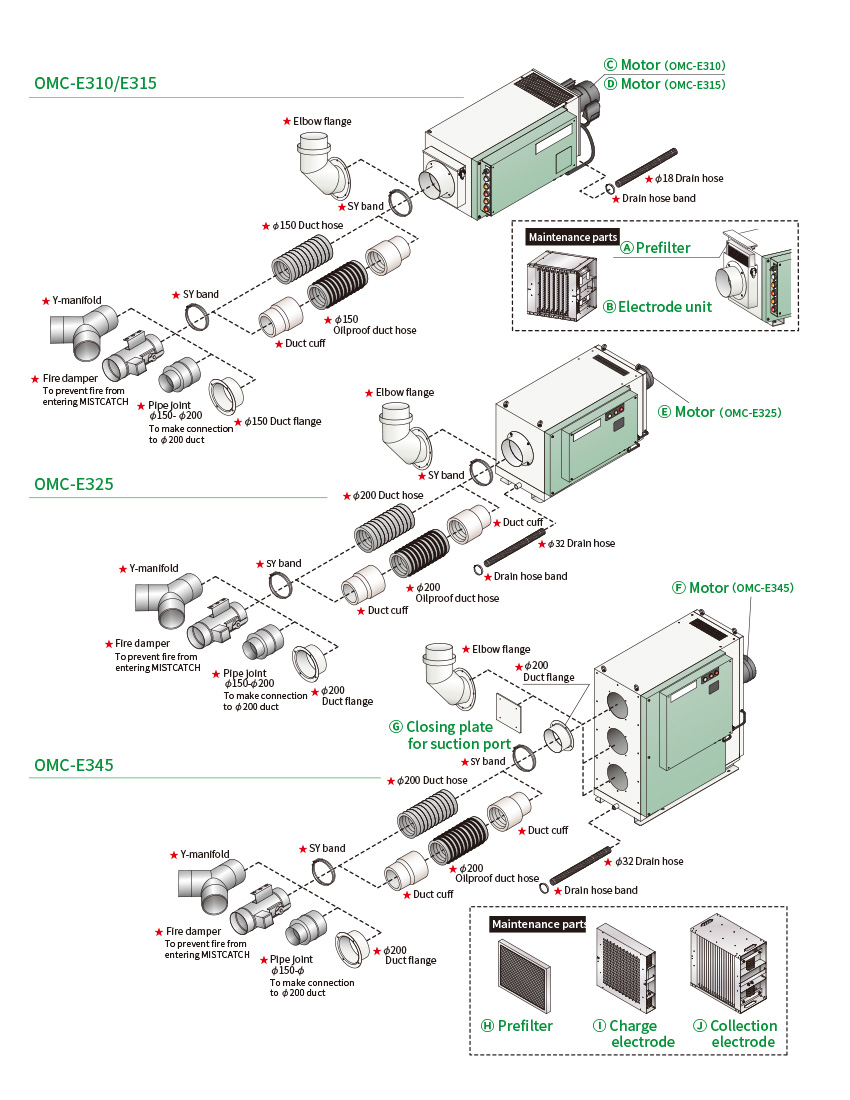 Part name

Part number

A

Pre-filter

OMC-E043-1

B

Electrode unit

OMC-E026-1

C

Motor for OMC-E310

OMC-M01

D

Motor for OMC-E315

OMC-N205-M40

E

Motor for OMC-E325

OMC-N210-M75

F

Motor for OMC-E345

OMC-N215-M150

G

Closing plate for suction port

OMC-E047-1

H

Pre-filter

OMC-E046-1

I

Charge electrode

OMC-E0044-1

J

Collection electrode

OMC-E045-1
Intake piping for OMC-E345
OMC-E345 has three suction ports of Ø200 to provide up to three duct hose connections as necessary.
No duct flanges are provided for these ports. Please purchase the necessary number of Ø200 duct flanges (P/N OMC-DF200) for hose connection.
For fixing duct flange(s) or closing unused port(s), 12 pcs. of M6 screws are necessary (not included in the supply).
When you fabricate an original duct flange like an example illustrated below, secure it with 12 pcs. of M8 bolts using the holes provided.
It is recommended to seal around the jointed parts for leak prevention.
Part name

Part number

A

Deodorant filter box

OMC-E041-1

B

Replacement deodorant filter

OMC-E042-1

C

Exhaust filter box

OMC-E040-1

D

Replacement exhaust filter

OMC-E2727-65-1

E

Vane unit

OMC-026-1

F

Electrode unit

OMC-E026-1

G

Wheels with adjuster foot

OMC-E033-1

H

Drain pan

OMC-E032-1

I

Motor

OMC-M01